Our online CPQ software pCon.basket PRO and pCon.basket CE, the free community tool for creating article lists, as well as the variant for integration have received an update.
We would like to introduce you to the new features, which further improve order processing, working with currencies and usability, as pCon.basket 2.11 is released. More detailed information about the new features of version 2.11 can be found in this document and in the pCon.basket online help.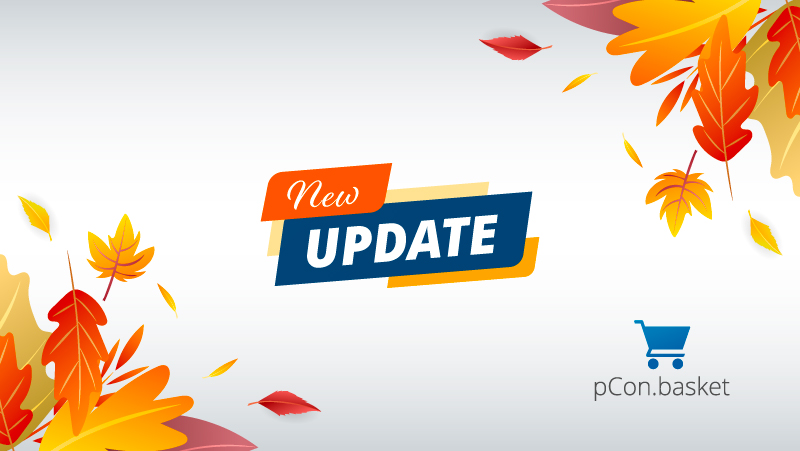 Advanced Customization Options for Your Reports
The new version provides you with increased customization options for your PDF documents. With a handy slider you can now adjust the size of the logo according to your needs, which makes it easier to tailor your documents.
With the new option "Dynamic" in the letterhead, you can move important information closer together and display all the necessary details on the first page. In the footer you can flexibly enter contact details or other important information via free text input, which will appear on every form page.
NEW: Reference Currency for Conversion Rates
Great news for those who work with conversion rates. In the header data you can set a reference currency for conversion. This is especially helpful if you are costing projects outside the Euro area. Also, during project calculation you will see a note if the base price of the data has been converted from a currency that is different from the project.
Optimized Order Processing
For exporting an order in OEX format, the new pCon.basket release now supports OEX version 3.1. Additionally, you can choose to attach your complete purchase and sales calculations to the order. This makes the ordering process even more transparent.
NEW: Extended Work Settings
Within the general settings you have the possibility to adjust the display quality of 3D content according to your needs. Especially the "Low" setting is intended for server environments that do not have dedicated graphics support.
There is also a new section called "Catalog". This allows you to specify whether you want to show or hide article numbers in the catalog overview. Additionally, you can decide if you want the product catalog overview to open automatically when new listings are created. That opens up an even more precise customization of your personal work settings and preferences in pCon.basket.
Discover The New Features in Action
Would you like to see the new features of pCon.basket 2.11 in action? We have created a short video that will demonstrate all the improvements and new options in the application. We invite you to watch the video on our YouTube channel and share the latest changes with your colleagues.